Compare the 2021 Jeep Renegade vs. 2021 Chevrolet Trailblazer
Mid-size SUVs are versatile vehicles that provide comfort, safety, and capable performance that makes them great for families and adventurers alike. They will get you where you need to go in all terrain and weather conditions, giving you peace of mind on every trip in any season.
The 2021 Jeep Renegade is a unique addition to the family because of its compact design that still offers the same rugged capability of bigger, brawnier Jeep models. The 2021 Chevrolet Trailblazer is another relatively small SUV which makes it a great direct comparison to the likes of the Jeep Renegade. So, let's get into it. How does the 2021 Jeep Renegade and the 2021 Chevy Trailblazer compare?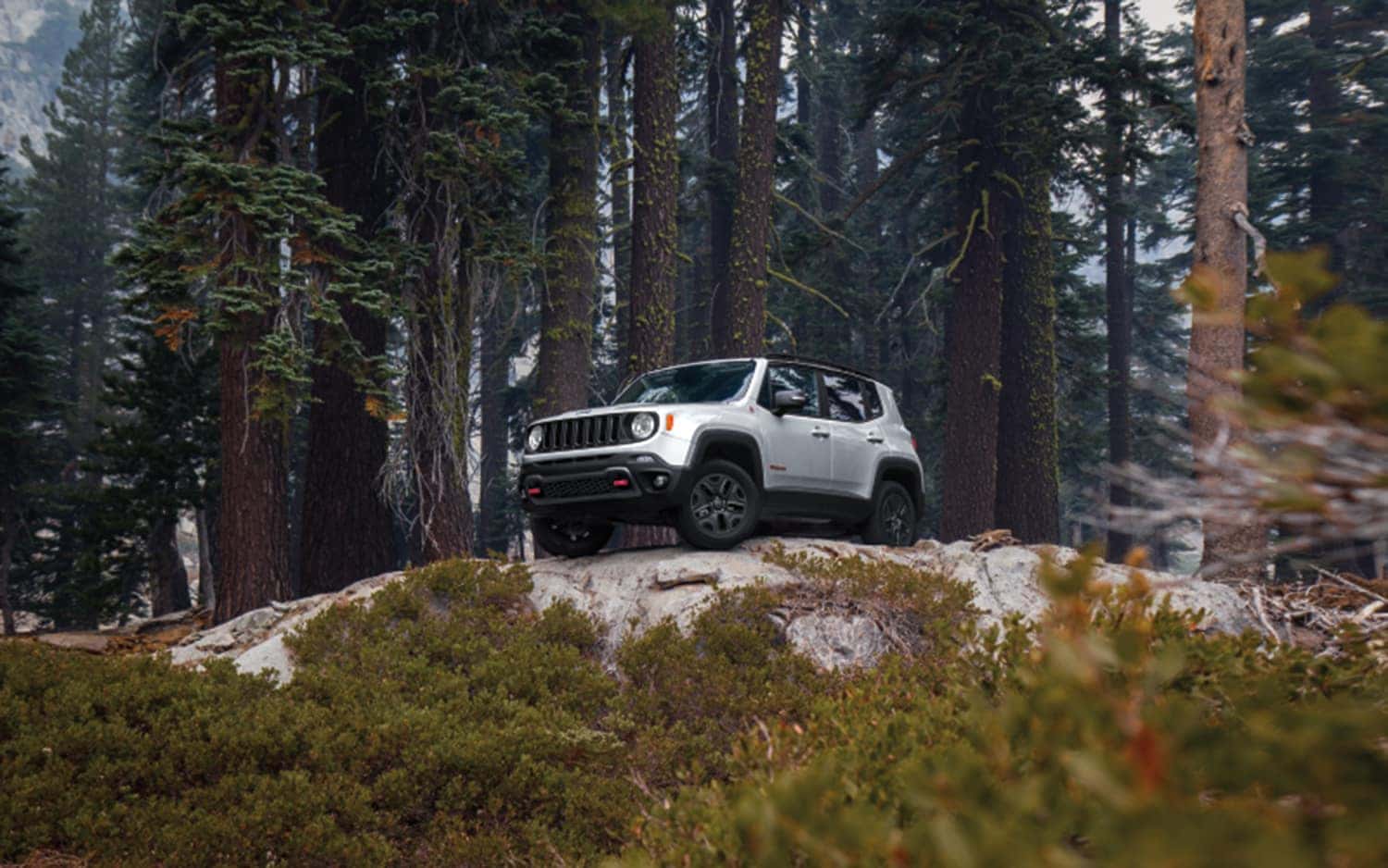 Performance: The 2021 Jeep Renegade vs. 2021 Chevrolet Trailblazer
When you purchase a Jeep, you get versatility in every aspect of the vehicle, but most importantly in the performance. The 2021 Jeep Renegade comes standard with a 2.5L engine that gets 180-hp, or you can opt for a turbocharged 1.4L engine for an extra 25 lb-ft of torque. Both engines are paired with a nine-speed automatic transmission and can tow up to 2,000 lbs when equipped with all-wheel drive. The 2021 Chevrolet Trailblazer's base 1.2L engine only gets 137-hp and doesn't have the option of all-wheel drive. It does have another option of a 155-hp 1.3L engine that can be equipped with all-wheel drive, but doesn't come close to the power that the Jeep Renegade's base engine provides.
The 2021 Jeep Renegade also comes standard with a myriad of performance features like Hillstart Assist, available tractions management systems, and 8-inches of ground clearance so you can get to that incredible camping spot without a problem. You'll be paying extra to add on those same features to the 2021 Chevy Trailblazer, plus the ride comfort doesn't come close to the soft suspension, minimal body roll, and quick steering and throttle response of the Jeep Renegade.
If you're a dirt road warrior, the 2021 Renegade Trailhawk is the best choice because it's designed for aggressive off-road exploring. The high air intake, sealed electrical connections, and moisture-resistance body openings take the worry out of crossing waterways, and the precision steering and optimized wheelbases take the maneuverability of this mid-size SUV to the next level. Ask us about the 2021 Renegade Trailhawk at Carolina CDJR to take a test drive!

Design: 2021 Jeep Renegade vs. 2021 Chevrolet Trailblazer
The 2021 Jeep Renegade infuses style and convenience into its refined interior so that even the most rugged adventures meet a high standard of comfort. For example, Elizabeth City drivers will enjoy the available heated & ventilated seats, nine-speaker Kenwood® Premium Audio System with a 560-watt amplifier, and dual-zone automatic temperature control that keeps everyone happy. Plus, the Renegade's interior is unique, with special details like maps imprinted into the cupholders that make it feel like the ultimate adventure mobile.
The 2021 Chevrolet Trailblazer has an average design in comparison that lacks the personality or thoughtful detail of the Jeep Renegade. Plus, the Jeep Renegade has slightly more room for taller passengers with its extra leg and shoulder room in the front and rear. As for cargo, the 2021 Jeep Renegade has a special adjustable cargo floor that can be moved up or down easily for various cargo needs. The rear seats also fold completely flat for 50.8 cubic feet of space to stash gear, luggage, or whatever else your adventure entails. The 2021 Chevrolet Trailblazer has plenty of room for cargo too, but it doesn't include the smart adjustable design as the Renegade that makes organization and packing as easy as ever.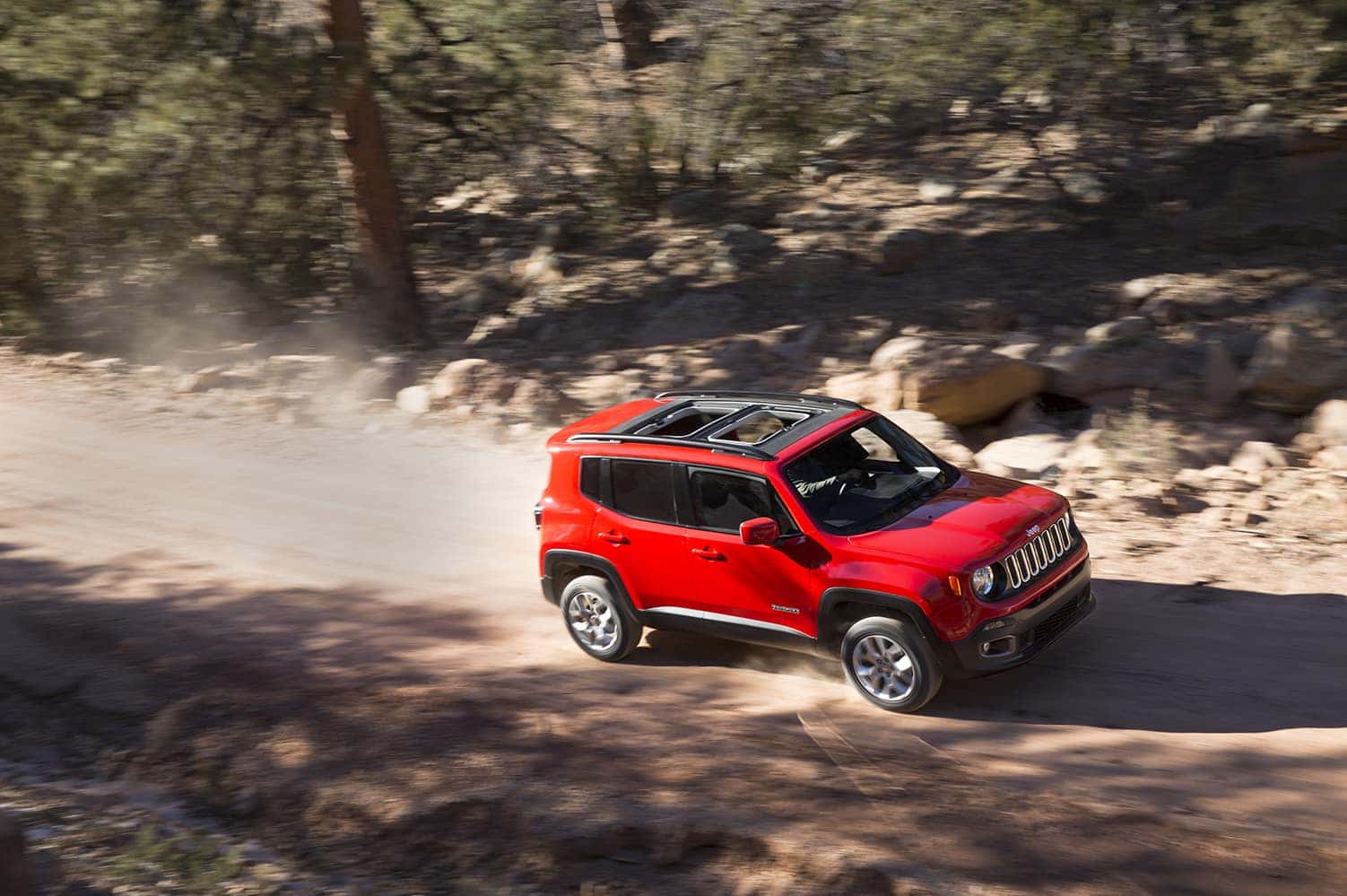 Safety: 2021 Jeep Renegade vs. 2021 Chevrolet Trailblazer
These days, new vehicles are built with safety as first priority. So, you can be confident that both the 2021 Jeep Renegade and the 2021 Trailblazer will keep you and your family safe on or off the road. But the 2021 Jeep Renegade has an impressive set of standard and optional safety features that take it further. For example, every 2021 Jeep Renegade is equipped with forward-collision warning and automated emergency braking, side-impact beams, blind-spot warning, and so much more. It even has a semi-autonomous feature that helps you park perfectly into any spot.
But where the Renegade really shines is, you guessed it, the performance-enhancing features like the Selec-Terrain® Traction Management System that optimizes engine and drivetrain systems to adapt to whatever surface you're rolling over, including a Rock Mode only available on the TrailHawk trim. All of these features and its insanely smart build has led the Insurance Institute for Highway Safety (IIHS) to award the 2021 Jeep Renegade a Top Safety Pick Rating.
While the 2021 Chevrolet Trailblazer is a great compact SUV for daily driving, it just doesn't come close to the versatility and comfort that the 2021 Jeep Renegade offers on and off the road. If you need a reliable set of wheels with a refined cabin to handle any muddy, rough adventure, then you know which is the right choice.
---
Test drive an all-new 2021 Jeep Renegade today at Carolina CDJR to experience the Jeep difference for yourself!
---