Model Features of the 2021 Jeep Grand Cherokee L
Car buying is never an easy thing. With all of the hassle and time spent searching for information, buyers tend to lose interest quickly. Well, Carolina CDJR is here to help! We want to see you happy and driving off in the vehicle you have always wanted. Speaking of vehicles that you've always wanted, let's take a look at a new addition to the Jeep family. Everyone is talking about the 2021 Jeep Grand Cherokee L, and you should be too. With many unique features and some spectacular options available for add-on quality, the 2021 Jeep Grand Cherokee L is sure to impress even the pickiest of vehicle buyers. But, first, let's take a look at the safety features!

What Safety Features are Standard with the 2021 Jeep Grand Cherokee L?
When it comes to safety, no one wants to skimp on the options and wants to make sure that you have the best available features equipped on their vehicle. The cargo you are transporting, including yourself and your passengers, is important to you, and making sure that you are safe is of utmost importance. In the new 2021 Jeep Grand Cherokee L, safety was not skimped on. Looking at the standard Laredo trim model, some features include Standard Pro-Tech I System, Includes Blind Spot Monitoring with Rear Cross Path Detection. In addition, with the Available ProTech Group III Head-Up Display, Highway Assist System, Intersection Collision-Assist System, Night Vision with Pedestrian and Animal Detection. Many of these features come standard, but some are optional add ons to your vehicle packages. Talk to your trusted Jeep dealer to help you build the best vehicle for you and your family!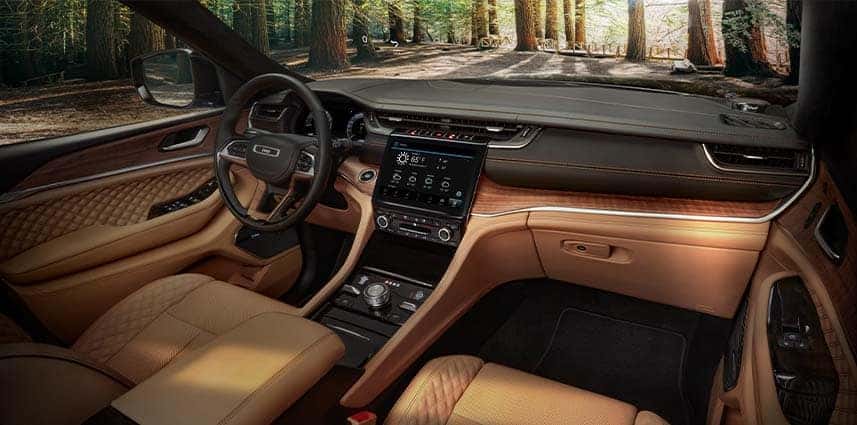 What Technical Features Come with the Jeep Grand Cherokee L?
When thinking about the technology of your new vehicle, you want to make sure you have technology that keeps you safe and provides comfort and convenience. Looking specifically at the 2021 Jeep Grand Cherokee L, many technological features deliver the comfort and convenience that any car buyer should be looking for! Some of the available features on the Jeep Grand Cherokee L include available Uconnect® 5 with an 8.4-inch intuitive touchscreen offering Apple CarPlay® support, Android Auto™ integration, Available 19 speaker 950 Watt Amplifier high-performance Audio System, Available 10.1-Inch Touchscreen Display. Deciding on what cutting-edge technology features you may want to include in your next vehicle may be one of the last things you want to consider. When buying a vehicle, you should consider all available options to make your life easier and safer on the roads you drive every day.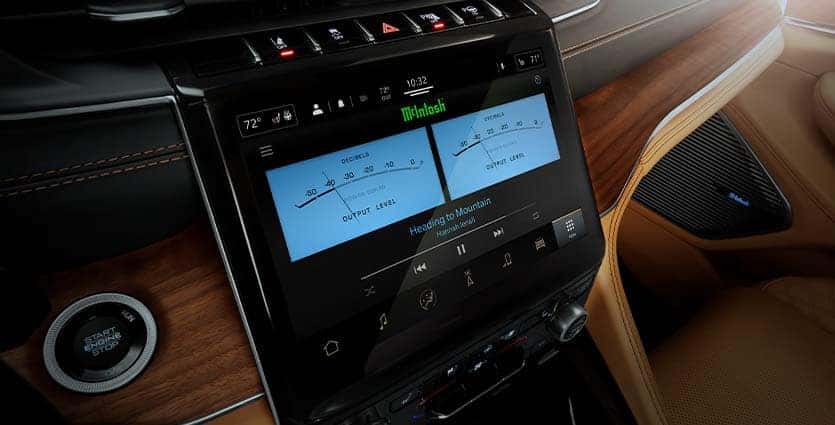 What Performance and Efficiency Options are Offered with the 2021 Jeep Grand Cherokee L?
The 2021 Jeep Grand Cherokee L is as powerful as it is stylish. Behind the wheel of the 2021 Grand Cherokee L, you'll enjoy precise steering and the smooth composure of the advanced suspension system. In addition, the 2021 Jeep Grand Cherokee L offers a powerful engine that will make every driver happy. The engine is a 3.6L V-6 producing 293 HP that gets an estimated MPG 19 City 26 Hwy with an available 5.7L Hemi V-8. It is plenty powerful for running errands through town and should help you get the job done when running from place to place. Talk to our expert service professionals at Carolina CDJR for advice on outfitting your Grand Cherokee L to work best with your lifestyle.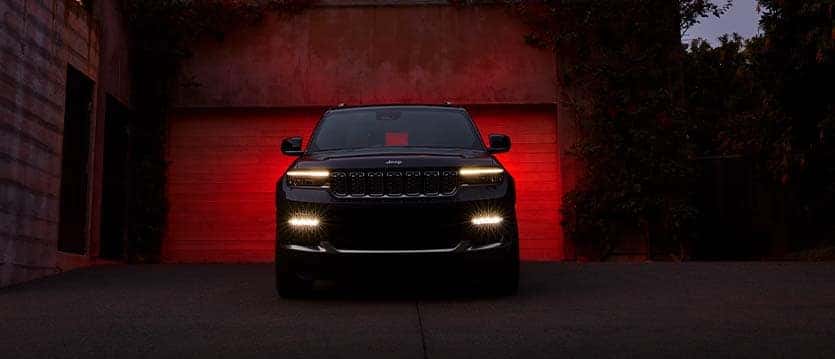 Additional Images of the 2021 Jeep Grand Cherokee L